ÄGGCØDDLER
Regular price
$144.00 USD
Regular price
Sale price
$144.00 USD
Unit price
per
Sale
Sold out
The first handmade artisanal collection: Äggcøddlers made by Léa Tardito
The new coddlers are similar to the original ones‭, ‬somewhere between the regular and XXL size‭. ‬But none of them are exactly the same‭. ‬They all have a unique profile since they are 100%‭ ‬hand made‭.‬
The Ägg Love Léa set of three comes in three tones‭: ‬pearl/white‭, ‬a grey/green and‭  ‬blue/green‭. They all have a natural‭, ‬earthy feel‭. ‬The‭ ‬finishes are sometimes more shiny‭, ‬sometimes more matt‭. ‬It depends on the clay and the day‭. ‬
Approx. 5 cm diameter at opening and 10 cm tall (cup 7 cm tall). Please note that as these are handmade pieces, finishes and sizes may vary slightly from piece to piece - a refreshing change from mass-produced pottery. Volume ca 125 ml / weight 165 g.
MATERIAL / PRODUCTION

White stoneware clay that is fired once at around 800‭ ‬degrees‭. ‬When they come out of the kiln‭, ‬the coddlers are immersed in a glaze bath which gives them their finishes‭. ‬
After the enamel from the bottom of the coddlers to prevent them from sticking to the firing plate‭. ‬They go back into the furnace for about 12‭ ‬hours at 1250‭ ‬degrees‭.‬

CARE INSTRUCTIONS
dishwasher / microwave / oven safe
Share
View full details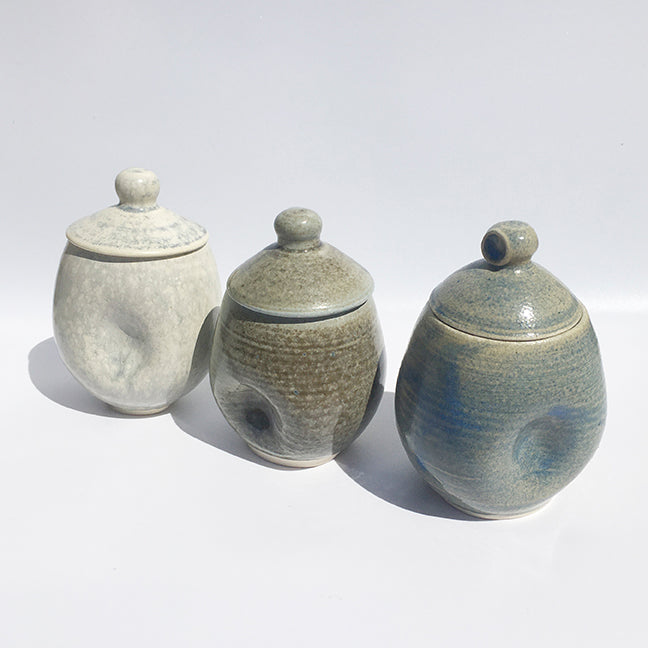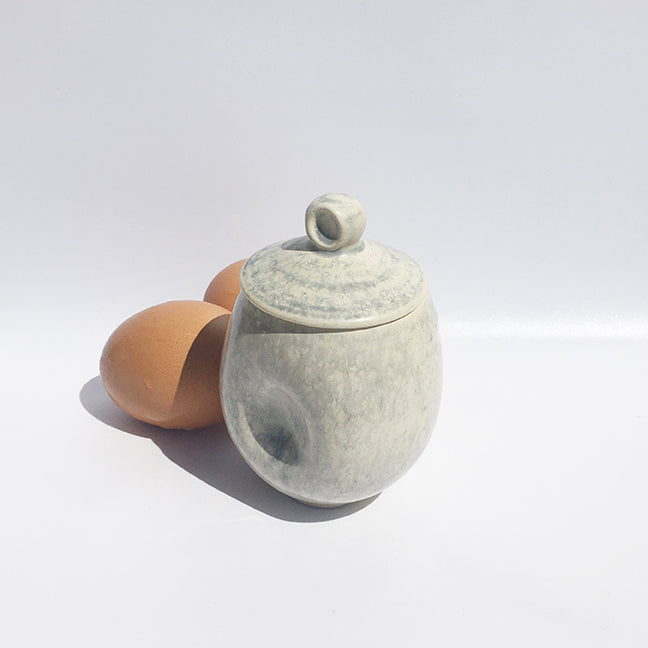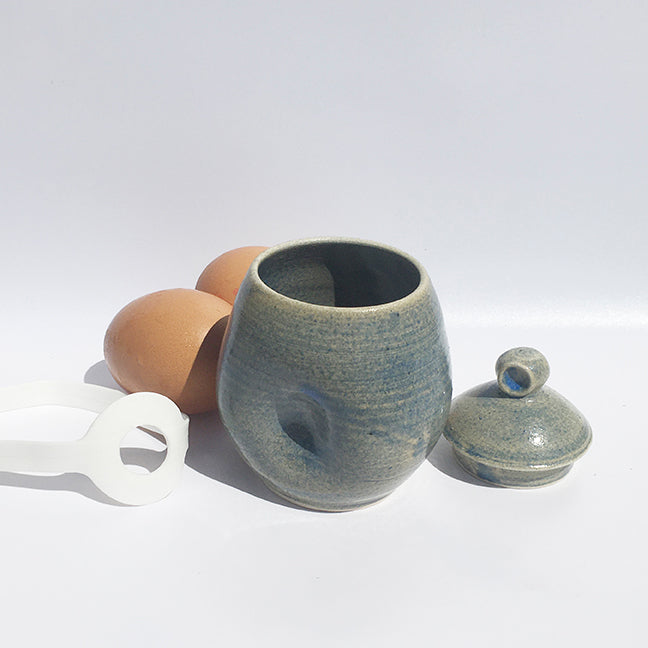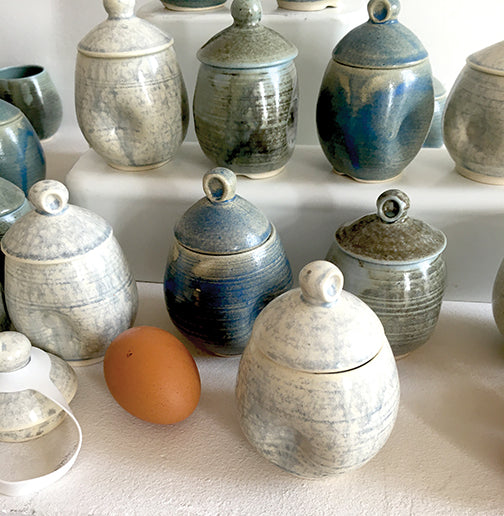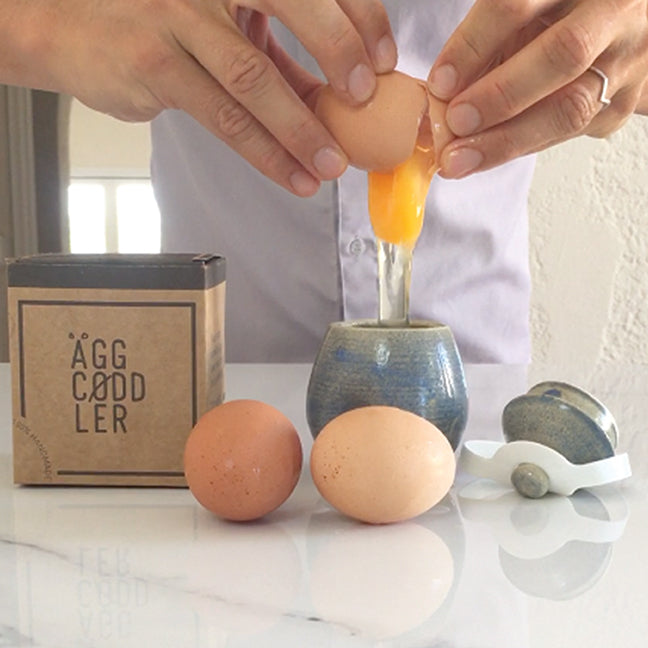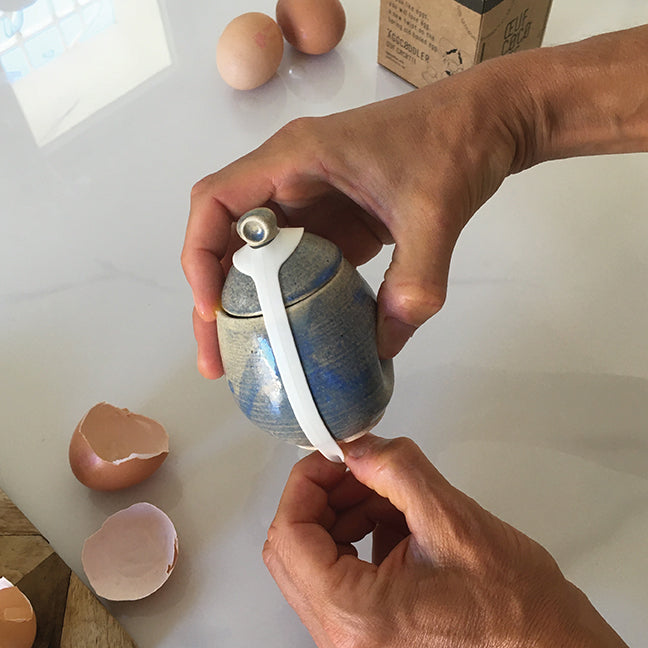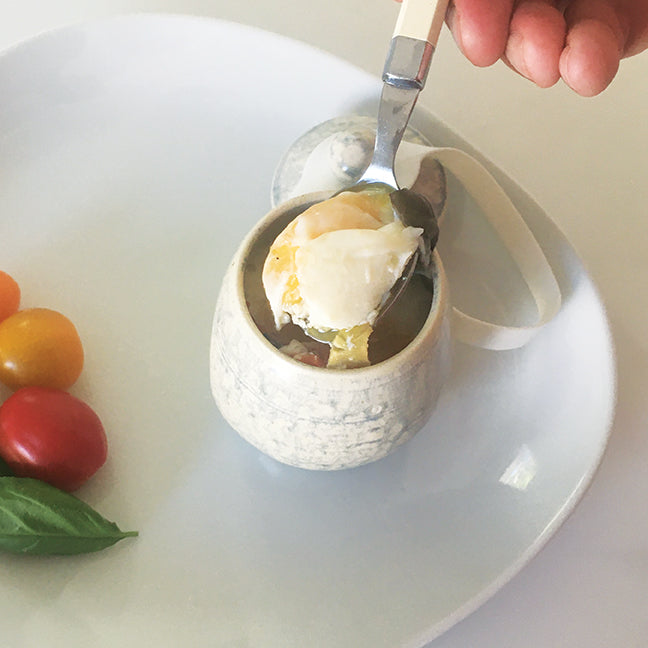 Answer your customers' common questions
How many eggs can I use with the XXL size?

You can use up to three eggs with the XXL size. Never fill up more than 3/4 - otherwise it might overflow in the pot.
Can I still use it if I loose the rubber band?

We will send you a new rubber band - for FREE in case of loss, dammage or misplacing ; )
What can I add to my Äggcoøddler?

Anything you want! All the tiny jars with small leftovers are great like olives, sun dried tomatoes, artichokes... Anything goes.